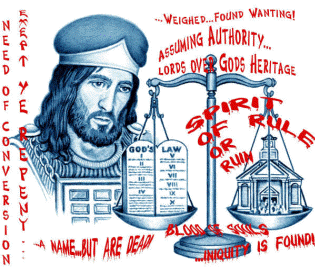 Vital Principles of Relationship - A

From Special Testimonies, Series B, no.10 1909- pgs 12-20
God has revealed many things to me which He has bidden me give to His people by pen and voice. Through this message of the Holy Spirit, God's people are given sacred instruction concerning their duty to God and to their fellowmen.
A strange thing has come into our churches. Men who are placed in positions of responsibility that they may be wise helpers to their fellow workers have come to suppose that they were set as kings and rulers in the churches, to say to one brother, Do this; to another, Do that; and to another, Be sure to labor in such and such a way. There have been places where the workers have been told that if they did not follow the instruction of these men of responsibility, their pay from the conference would be withheld.
It is right for the workers to counsel together as brethren; but that man who endeavors to lead his fellow workers to seek his individual counsel and advice regarding the details of their work, and to learn their duty from him, is in a dangerous position and needs to learn what responsibilities are really comprehended in his office. God has appointed no man to be conscience for his fellowman. It is not wise to lay so much responsibility upon an officer that he will feel that he is forced to become a dictator.
A Constant Peril
For years there has been a growing tendency for men placed in positions of responsibility to lord it over God's heritage, thus removing from church members their keen sense of the need of divine instruction and an appreciation of the privilege to counsel with God regarding their duty. This order of things must be changed. There must be a reform. Men who have not a rich measure of that wisdom which cometh from above should not be called to serve in positions where their influence means so much to church members.
In my earlier experiences in the message, I was called to meet this evil. During my labors in Europe and Australia, and more recently at the San Jose camp meeting in 1905, I had to bear my testimony of warning against it, because souls were being led to look to man for wisdom, instead of looking to God, who is our wisdom, our sanctification, and our righteousness. And now the same message has again been given me, more definite and decisive, because there has been a deeper offense to the Spirit of God.
An Exalted Privilege
God is the Teacher of His people. All who humble their hearts before Him will be taught of God. "If any of you lack wisdom, let him ask of God, that giveth to all men liberally, and upbraideth not; and it shall be given him." The Lord wants every church member to pray earnestly for wisdom, that he may know what the Lord would have him do. It is the privilege of every believer to obtain an individual experience, learning to carry his cares and perplexities to God. It is written, "Draw nigh to God, and He will draw nigh to you."
Through His servant Isaiah, God is calling His church to appreciate her exalted privilege in having the wisdom of the Infinite at her command: "O Zion, that bringest good tidings, get thee up into the high mountain; O Jerusalem, that bringest good tidings, lift up thy voice with strength; lift it up, be not afraid; say unto the cities of Judah, Behold your God! Behold, the Lord God will come with strong hand, and His arm shall rule for Him: behold, His reward is with Him, and His work before Him. He shall feed His flock like a shepherd: He shall gather the lambs with His arm, and carry them in His bosom, and shall gently lead those that are with young.
"Who hath measured the waters in the hollow of His hand, and meted out heaven with the span, and comprehended the dust of the earth in a measure, and weighed the mountains in scales, and the hills in a balance? Who hath directed the Spirit of the Lord, or being His counselor hath taught Him? With whom took He counsel, and who instructed Him, and taught Him in the path of judgment, and taught Him knowledge, and showed to Him the way of understanding? Behold, the nations are as a drop of a bucket, and are counted as the small dust of the balance: behold, He taketh up the isles as a very little thing. And Lebanon is not sufficient to burn, nor the beasts thereof sufficient for a burnt offering. All nations before Him are as nothing; and they are counted to Him less than nothing, and vanity."
"Hast thou not known? hast thou not heard, that the everlasting God, the Lord, the Creator of the ends of the earth, fainteth not, neither is weary? there is no searching of His understanding. He giveth power to the faint; and to them that have no might He increaseth strength. Even the youths shall faint and be weary, and the young men shall utterly fall: but they that wait upon the Lord shall renew their strength; they shall mount up with wings as eagles; they shall run, and not be weary; and they shall walk, and not faint."
In the forty-first to the forty-fifth chapters of Isaiah, God very fully reveals His purpose for His people, and these chapters should be prayerfully studied. God does not here instruct His people to turn away from His wisdom and look to finite man for wisdom. "Remember these, O Jacob and Israel," He declares, "for thou art My servant: . . . O Israel, thou shalt not be forgotten of Me. I have blotted out, as a thick cloud, thy transgressions, and, as a cloud, thy sins: return unto Me; for I have redeemed thee. Sing, O ye heavens; for the Lord hath done it: shout, ye lower parts of the earth: break forth into singing, ye mountains, O forest, and every tree therein: for the Lord hath redeemed Jacob, and glorified Himself in Israel."
"Tell ye, and bring them near; yea, let them take counsel together: who hath declared this from ancient time? who hath told it from that time? have not I the Lord? and there is no God else beside me. . . . Look unto Me, and be ye saved, all the ends of the earth: for I am God, and there is none else. I have sworn by Myself, the word is gone out of My mouth in righteousness, and shall not return, That unto Me every knee shall bow, every tongue shall swear. Surely, shall one say, in the Lord have I righteousness and strength: even to Him shall men come; and all that are incensed against Him shall be ashamed. In the Lord shall all the seed of Israel be justified, and shall glory."
Every Yoke to be Broken
I write thus fully, because I have been shown that ministers and people are tempted more and more to trust in finite man for wisdom, and to make flesh their arm. To conference presidents, and men in responsible places, I bear this message: Break the bands and fetters that have been placed upon God's people. To you the word is spoken, "Break every yoke." Unless you cease the work of making man amenable to man, unless you become humble in heart, and yourselves learn the way of the Lord as little children, the Lord will divorce you from His work. We are to treat one another as brethren, as fellow laborers, as men and women who are, with us, seeking for light and understanding of the way of the Lord, and who are jealous for His glory.
God declares, "I will be glorified in My people;" but the self-confident management of men has resulted in putting God aside, and accepting the devisings of men. If you allow this to continue, your faith will soon become extinct. God is in every place, beholding the conduct of the people who profess to represent the principles of His word. He asks that a change be made. He wants His people to be molded and fashioned, not after man's ideas, but after the similitude of God. I entreat of you to search the Scriptures as you have never yet searched them that you may know the way and will of God. Oh, that every soul might be impressed with this message, and put away the wrong!
Paul's Experience
We would do well to study carefully the first and second chapters of 1 Corinthians. "We preach Christ crucified," the apostle declared, "unto the Jews a stumbling block, and unto the Greeks foolishness; but unto them which are called, both Jews and Greeks, Christ the power of God, and the wisdom of God. Because the foolishness of God is wiser than men; and the weakness of God is stronger than men. For ye see your calling, brethren, how that not many wise men after the flesh, not many mighty, not many noble, are called: but God hath chosen the foolish things of the world to confound the wise; and God hath chosen the weak things of the world to confound the things which are mighty; and base things of the world, and things which are despised, hath God chosen, yea, and things which are not, to bring to nought things that are: that no flesh should glory in His presence. But of Him are ye in Christ Jesus, who of God is made unto us wisdom, and righteousness, and sanctification, and redemption: that, according as it is written, He that glorieth, let him glory in the Lord." The human being who undertakes to become wisdom for another will find himself coming short.
"I was with you," Paul continues, "in weakness, and in fear, and in much trembling. And my speech and my preaching was not with enticing words of man's wisdom, but in demonstration of the Spirit and of power: that your faith should not stand in the wisdom of men, but in the power of God. Howbeit we speak wisdom among them that are perfect: yet not the wisdom of this world, nor of the princes of this world, that come to nought: but we speak the wisdom of God in a mystery, even the hidden wisdom, which God ordained before the world unto our glory: which none of the princes of this world knew: for had they known it, they would not have crucified the Lord of glory."
Taught by the Spirit
In the next words the apostle brings to view the true source of wisdom for the believer: "God hath revealed them unto us by His Spirit: for the Spirit searcheth all things, yea, the deep things of God. For what man knoweth the things of a man, save the spirit of man which is in him? even so the things of God knoweth no man, but the Spirit of God. . . . Which things also we speak, not in the words which man's wisdom teacheth, but which the Holy Ghost teacheth; comparing spiritual things with spiritual."
These words mean very much to the soul that is trying to run the race set before him in the gospel. "The natural man receiveth not the things of the Spirit of God: for they are foolishness unto him: neither can he know them, because they are spiritually discerned. But he that is spiritual judgeth all things, yet he himself is judged of no man. For who hath known the mind of the Lord, that he may instruct Him? But we have the mind of Christ."
Read also the third chapter of this book, and study and pray over these words. As a people our faith and practice need to be energized by the Holy Spirit. No ruling power that would compel man to obey the dictates of the finite mind should be exercised. "Cease ye from man, whose breath is in his nostrils," the Lord commands. By turning the minds of men to lean on human wisdom, we place a veil between God and man, so that there is not a seeing of Him who is invisible.
In our individual experience we are to be taught of God. When we seek Him with a sincere heart, we will confess to Him our defects of character; and He has promised to receive all who come to Him in humble dependence. The one who yields to the claims of God will have the abiding presence of Christ, and this companionship will be to him a very precious thing. Taking hold of divine wisdom, he will escape the corruptions that are in the world through lust. Day by day he will learn more fully how to carry his infirmities to the One who has promised to be a very present help in every time of need.
This message is spoken to our churches in every place. In the false experience that has been coming in, a decided influence is at work to exalt human agencies, and to lead some to depend on human judgment, and to follow the control of human minds. This influence is diverting the mind from God. God forbid that any such experience should deepen and grow in our ranks as Seventh-day Adventists. Our petitions are to reach higher than erring man--to God. God does not confine Himself to one place or person. He looks down from heaven upon the children of men; He sees their perplexities, and is acquainted with the circumstances of every experience of life. He understands His own work upon the human heart, and needs not that any man should direct the workings of His Spirit.
"This is the confidence that we have in Him, that, if we ask anything according to His will, He heareth us: and if we know that He hear us, whatsoever we ask, we know that we have the petitions that we desired of Him." God has appointed the angels that do His will to respond to the prayers of the meek of the earth, and to guide His ministers with counsel and judgment. Heavenly agencies are constantly seeking to impart grace and strength and counsel to God's faithful children, that they may act their part in the work of communicating light to the world. The wonderful sacrifice of Christ has made it possible for every man to do a special work. When the worker receives wisdom from the only true source, he will become a pure channel of light and blessing; for he will receive his capability for service in rich currents of grace and light from the throne of God.
Individual Responsibility and Christian Unity
From Special Testimonies, Series B, no.9 1907- pgs 14-36
Sanitarium, California, January 16, 1907.
We are living in a time when every true Christian must maintain a living connection with God. The world is flooded with sophistries of the enemy, and we are safe only as we learn lessons of truth from the Great Teacher. The solemn work in which we are engaged demands of us a strong, united effort under divine leadership.
The Lord desires His workers to counsel together, not to move independently. Those who are set as ministers and guides to the people should pray much when they meet together. This will give wonderful help and courage, binding heart to heart and soul to soul, leading every man to unity and peace and strength in his endeavors.
Our strength lies in taking our burdens to the great Burden Bearer. God confers honor on those who come to Him and ask Him for help, in faith believing that they will receive.
Human help is feeble. But we may unite in seeking help and favor from Him who has said, "Ask, and it shall be given you; seek, and ye shall find; knock, and it shall be opened unto you." Divine power is infallible. Then let us come to God, pleading for the guidance of His Holy Spirit. Let our united prayers ascend to the throne of grace. Let our requests be mingled with praise and thanksgiving.
Need for Religious Education
Christ, our Advocate with the Father, knows how to sympathize with every soul. To those who receive Him as their Saviour, He gives power to become sons and daughters of God. His life of perfect freedom from sin has prepared the way for us; through Him the entrance into the holiest of all is made manifest.
"For God so loved the world, that He gave His only-begotten Son, that whosoever believeth in Him should not perish, but have everlasting life." "He that hath received His testimony hath set to his seal that God is true. For He whom God hath sent speaketh the words of God: for God giveth not the Spirit by measure unto Him. The Father loveth the Son, and hath given all things into His hand. He that believeth on the Son hath everlasting life: and he that believeth not the Son shall not see life; but the wrath of God abideth on him."
A religious education is greatly needed by all who act a part in the work of Jesus Christ. They are to be laborers together with God, engaged in a sacred, solemn work. Each is to have an individual experience in being taught by the Great Teacher, and individual communion with God. There is to be imparted a new life, and that life is to be nourished by the Holy Spirit. When there is a spiritual union with the Lord Jesus, He will move and impress the heart. He will lead, and in the life there will be a growth of fellowship with Christ.
Christ is our only hope. We may look to Him, for He is our Saviour. We may take Him at His word, and make Him our dependence. He knows just the help we need, and we can safely put our trust in Him. If we depend on merely human wisdom to guide us, we shall find ourselves on the losing side. But we may come direct to the Lord Jesus, for He has said: "Come unto Me, all ye that labor and are heavy-laden, and I will give you rest. Take My yoke upon you, and learn of Me; for I am meek and lowly in heart: and ye shall find rest unto your souls." It is our privilege to be taught of Him who said, "Except ye eat the flesh of the Son of man, and drink His blood, ye have no life in you."
We have a divine audience to which to present our requests. Then let nothing prevent us from offering our petitions in the name of Jesus, believing with unwavering faith that God hears us, and that He will answer us. Let us carry our difficulties to God, humbling ourselves before Him. There is a great work to be done; and while it is our privilege to counsel together, we must be very sure, in every matter, to counsel with God, for He will never mislead us. We are not to make flesh our arm. If we do, depending chiefly upon human help, human guidance, unbelief will steal in, and our faith will die.
Frequently I receive letters from individuals telling me of their troubles and perplexities, and asking me to inquire of God as to what is their duty. To those for whom the Lord has given me no light, I have often replied: I have not been appointed by God to do such a work as you ask me to do. The Lord Jesus has invited you to bring your troubles to One who understands every circumstance of your life.
"What things soever ye desire, when ye pray, believe that ye receive them, and ye shall have them. And when ye stand praying, forgive, if ye have aught against any: that your Father also which is in heaven may forgive you your trespasses. But if ye do not forgive, neither will your Father which is in heaven forgive your trespasses."
I shall not dishonor my Lord by encouraging people to come to me for counsel, when they have a standing invitation to go to the One who is able to carry them and all their burdens.
"It is written in the prophets, And they shall be all taught of God. Every man therefore that hath heard, and hath learned of the Father, cometh unto Me. . . . I am the living bread which came down from heaven: if any man eat of this bread, he shall live forever: and the bread that I will give is My flesh, which I will give for the life of the world."
God deals with men as individuals, giving to everyone his work. All are to be taught of God. Through the grace of Christ every soul must work out his own righteousness, maintaining a living connection with the Father and the Son. This is a genuine experience that is of value.
Necessity of Harmonious Action
While it is true that the Lord guides individuals, it is also true that He is leading out a people, not a few separate individuals here and there, one believing this thing, another that. Angels of God are doing the work committed to their trust. The third angel is leading out and purifying a people, and they should move with him unitedly.
Those who were in our work at the beginning are passing away. Only a few of the pioneers of the cause now remain among us. Many of the heavy burdens formerly borne by men of long experience are now falling upon younger men.
This transfer of responsibilities to laborers whose experience is more or less limited is attended with some dangers against which we need to guard. The world is filled with strife for the supremacy. The spirit of pulling away from our fellow laborers, the spirit of disorganization, is in the very air we breathe. By some, all efforts to establish order are regarded as dangerous--as a restriction of personal liberty, and hence to be feared as popery. They declare that they will not take any man's say-so; that they are amenable to no man. I have been instructed that it is Satan's special effort to lead men to feel that God is pleased to have them choose their own course, independent of the counsel of their brethren.
Herein lies a grave danger to the prosperity of our work. We must move discreetly, sensibly, in harmony with the judgment of God-fearing counselors; for in this course alone lies our safety and strength. Otherwise God cannot work with us and by us and for us.
Oh, how Satan would rejoice if he could succeed in his efforts to get in among this people and disorganize the work at a time when thorough organization is essential and will be the greatest power to keep out spurious uprisings and to refute claims not endorsed by the word of God! We want to hold the lines evenly, that there shall be no breaking down of the system of organization and order that has been built up by wise, careful labor. License must not be given to disorderly elements that desire to control the work at this time.
Unity of Effort
Some have advanced the thought that as we near the close of time, every child of God will act independently of any religious organization. But I have been instructed by the Lord that in this work there is no such thing as every man's being independent. The stars of heaven are all under law, each influencing the other to do the will of God, yielding their common obedience to the law that controls their action. And in order that the Lord's work may advance healthfully and solidly, His people must draw together.
The spasmodic, fitful movements of some who claim to be Christians is well represented by the work of strong but untrained horses. When one pulls forward, another pulls back; and at the voice of their master, one plunges ahead, and the other stands immovable. If men will not move in concert in the great and grand work for this time, there will be confusion. It is not a good sign when men refuse to unite with their brethren and prefer to act alone. Instead of isolating themselves, let them draw in harmony with their fellow laborers. Unless they do this, their activity will work at the wrong time and in the wrong way. They will often work counter to that which God would have done, and thus their labor is worse than wasted.
Men to be Counselors, Not Rulers
"Wait on the Lord: be of good courage, and He shall strengthen thine heart." Let us each wait on the Lord, and He will teach us how to labor. He will reveal to us the work that we are best adapted to perform. This will not lead men to start out in an independent spirit, to promulgate new theories. In this time when Satan is seeking to make void the law of God through the exaltation of false science, we need to guard most carefully against everything that would tend to lessen our faith and scatter our forces. As laborers together with God, we should be in harmony with the truth, and with our brethren. There should be counsel and cooperation.
Even in the midst of the great deceptions of the last days, when delusive miracles will be performed in the sight of men in behalf of satanic theories, it is our privilege to hide ourselves in Christ Jesus. It is possible for us to seek and to obtain salvation. And in this time of unusual peril, we must learn to stand alone, our faith fixed, not on the word of man, but on the sure promises of God.
Among all God's workers there should be a spirit of unity and harmony. The Lord has especially blessed some with an experience that has fitted them to be wise counselors. In our several callings there is to be a mutual dependence on one another for assistance. Of this, Peter says:
"Likewise, ye younger, submit yourselves unto the elder. Yea, all of you be subject one to another, and be clothed with humility: for God resisteth the proud, and giveth grace to the humble."
But this does not authorize any one man to undertake the work of ordering his brethren arbitrarily to do as he thinks advisable, irrespective of their own personal convictions of duty. Nor are God's chosen laborers to feel that at every step they must wait to ask some officer in authority whether they may do this or that. While cooperating heartily with their brethren in carrying out general plans that have been laid for the prosecution of the work, they are constantly to look to the God of Israel for personal guidance.
Sometimes a man who has been placed in responsibility as a leader gains the idea that he is in a position of supreme authority, and that all his brethren, before making advance moves, must first come to him for permission to do that which they feel should be done. Such a man is in a dangerous position. He has lost sight of the work of a true leader among God's people. Instead of acting as a wise counselor, he assumes the prerogatives of an exacting ruler. God is dishonored by every such display of authority and self-exaltation. No man standing in his own strength is ever to be mind and judgment for another man whom the Lord is using in His work. No one is to lay down man-made rules and regulations to govern arbitrarily his fellow laborers who have a living experience in the truth.
God calls upon those who have exercised undue authority to take off from His workers every dominating hand. Let everyone to whom has been entrusted sacred responsibilities seek to understand his individual duty before God, and do that duty humbly and faithfully. Let no one regard himself as a master, with controlling power to exercise over his brethren. The principles of the word of God are to be taught and practiced.
Amenable to God
While respecting authority and laboring in accordance with wisely laid plans, every worker is amenable to the Great Teacher for the proper exercise of his God-given judgment and of his right to look to the God of heaven for wisdom and guidance. God is Commander and Ruler over all. We have a personal Saviour, and we are not to exchange His word for the word of any man. In the Scriptures the Lord has given instruction for every worker. The words of the Master Worker should be diligently studied; for they are spirit and life. Laborers who are striving to work in harmony with this instruction are under the leadership and guidance of the Holy Spirit, and need not always, before they make any advance move, first ask permission of someone else. No precise lines are to be laid down. Let the Holy Spirit direct the workers. As they keep looking unto Jesus, the Author and Finisher of their faith, the gifts of grace will increase by wise use.
God desires that we shall come into right relation with Him. He desires that every voice shall be sanctified. He wants all there is of us--soul, body, and spirit--to be fully sanctified to do His will. It is time that we begin to know that we are fastened to the Lord Jesus Christ by a living, working faith; it is time for us to lay hold of the help proffered by the Spirit of God, and let our words reveal that we are under divine control. Let us believe in God, and trust in Him; and we shall see His mighty power working among us.
In 1895 I wrote to my brethren in the ministry, as follows: "I must speak to my brethren nigh and afar off. I cannot hold my peace. They are not working on correct principles. Those who stand in responsible positions must not feel that their position of importance makes them men of infallible judgment.
"All the works of men are under the Lord's jurisdiction. It will be altogether safe for men to consider that there is knowledge with the Most High. Those who trust in God and His wisdom, and not in their own, are walking in safe paths. They will never feel that they are authorized to muzzle even the ox that treads out the grain; and how offensive it is for men to control the human agent who is in partnership with God, and whom the Lord Jesus has invited: 'Come unto Me, all ye that labor and are heavy-laden, and I will give you rest. Take My yoke upon you, and learn of Me; for I am meek and lowly heart: and ye shall find rest unto your souls. For My yoke is easy, and My burden is light.' 'We are laborers together with God: ye are God's husbandry, ye are God's building.'
"The Lord has not placed any one of His human agencies under the dictation and control of those who are themselves but erring mortals. He has not placed upon men the power to say, You shall do this, and you shall not do that. . . .
"No man is a proper judge of another man's duty. Man is responsible to God; and as finite, erring men take into their hands the jurisdiction of their fellowmen, as if the Lord commissioned them to lift up and cast down, all heaven is filled with indignation. There are strange principles being established in regard to the control of the minds and works of men, by human judges, as though these finite men were gods. . . .
"Organizations, institutions, unless kept by the power of God, will work under Satan's dictation to bring men under the control of men; and fraud and guile will bear the semblance of zeal for truth, and for the advancement of the kingdom of God. . . .
"God will not vindicate any device whereby man shall in the slightest degree rule or oppress his fellowmen. The only hope for fallen man is to look to Jesus, and receive Him as the only Saviour. As soon as a man begins to make an iron rule for other men, as soon as he begins to harness up and drive men according to his own mind, he dishonors God, and imperils his own soul and the souls of his brethren. Sinful man can find hope and righteousness only in God; and no human being is righteous any longer than he has faith in God and maintains a vital connection with Him. A flower of the field must have its root in the soil; it must have air, dew, showers, and sunshine. It will flourish only as it receives these advantages, and all are from God. So with men. We receive from God that which ministers to the life of the soul. We are warned not to trust in man, nor to make flesh our arm."
The foregoing was printed in Special Testimonies to Ministers and Workers (Series A, No. 9, 1897).
In 1903, I wrote to the president of a conference:
"By means of one agency, Christ Jesus, God has mysteriously linked all men together. To every man He has assigned some special line of service; and we should be quick to comprehend that we are to guard against leaving the work given us in order that we may interfere with other human agencies who are doing a work not precisely the same as our own. To no man has been assigned the work of interfering with the work of one of his fellow laborers, trying to take it in hand himself; for he would so handle it that he would spoil it. To one God gives a work different from the work that He gives another.
"Let us all remember that we are not dealing with ideal men, but with real men of God's appointment, men precisely like ourselves, men who fall into the same errors that we do, men of like ambitions and infirmities. No man has been made a master, to rule the mind and conscience of a fellow being. Let us be very careful how we deal with God's blood-bought heritage.
"To no man has been appointed the work of being a ruler over his fellowmen. Every man is to bear his own burden. He may speak words of encouragement, faith, and hope to his fellow workers; he may help them to bear their special burdens by suggesting to them improved methods of labor; but in no case is he to discourage and enfeeble them, lest the enemy shall obtain an advantage over their minds--an advantage that in time would react upon himself.
"By the cords of tender love and sympathy the Lord linked all men to Himself. Of us He says, Ye 'are laborers together with God: ye are God's husbandry, ye are God's building.' This relationship we should recognize. If we are bound up with Christ, we shall constantly manifest Christlike sympathy and forbearance toward those who are striving with all their God-given ability to bear their burdens, even as we endeavor to bear our appointed burdens.
"In our several callings there is to be a mutual dependence on one another for assistance. A spirit of authority is not to be exercised, even by the president of a conference; for position does not change a man into a creature that cannot err. Every laborer entrusted with the management of a conference is to work as Christ worked, wearing His yoke and learning of Him His meekness and lowliness. A conference president's spirit and demeanor in word and in deed reveal whether he realizes his weakness and places his dependence on God, or whether he thinks that his position of influence has given him superior wisdom. If he loves and fears God, if he realizes the value of souls, if he appreciates every jot of the help that the Lord has qualified a brother worker to render, he will be able to bind heart to heart by the love that Christ revealed during His ministry. He will speak words of comfort to the sick and the sorrowing.
"If he does not cultivate a masterly manner, but bears in mind always that One is his Master, even Christ, he can counsel the inexperienced, encouraging them to be God's helping hand.
"The feeble hands are not to be deterred from doing something for the Master. Those whose knees are weak are not to be caused to stumble. God desires us to encourage those whose hands are weak, to grasp more firmly the hand of Christ, and to work hopefully. Every hand should be outstretched to help the hand that is doing something for the Master. The time may come when the hands that have upheld the feeble hands of another may, in turn, be upheld by the hands to whom they ministered. God has so ordered matters that no man is absolutely independent of his fellowmen."
Counsel to Men in Official Positions
Among God's people are some who have had long experience in His work, men who have not departed from the faith. Notwithstanding the great trials through which they have passed, they have remained faithful. These men should be regarded as tried and chosen counselors. They should be respected, and their judgment should be honored by those who are younger or who have had less experience, even though these younger men may be in official positions.
We are engaged in a great work, and there are many opportunities for service in various lines. Let all pray earnestly that God may guide them into the right channels of service. God's workmen should not neglect any opportunity to help others in every possible way. If they seek God unselfishly for counsel, His word, which bringeth salvation, will lead them. They will engage in labor on the right hand and on the left, doing their best to remove from the minds of others every doubt and every difficulty in understanding the truth. The Spirit of God will make their labors effectual.
The Lord calls for minutemen, men who will be prepared to speak words in season and out of season that will arrest the attention and convict the heart. The kingdom of God consisteth not in outward show. Light will not be received by following selfish plans, but by looking unto Jesus, following Christ's leading, not the suppositions of men. The kingdom of God is righteousness and peace and joy in the Holy Ghost.
It often happens that circumstances arise which demand prompt action. And sometimes precious opportunities have been lost because of delay. The one who should have acted promptly felt that he must first consult with someone who was far away and who was unacquainted with the true conditions. Much time has thus been lost in asking advice and counsel from men who were not in a position to give wise counsel. Let all God's workers be guided by the word of truth which points out their duty, following implicitly the directions Christ has given.
In 1883, I said to our brethren assembled in General Conference:
"Satan exults when men look to and trust in man. The one who is the object of this undue confidence is exposed to strong temptations. Satan will, if possible, lead him to self-confidence, in order that human defects may mar the work. He will be in danger of encouraging his brethren in their dependence upon him, and feeling that all things that pertain to the movements of the cause must be brought to his notice. Thus the work will bear the impress of man instead of the impress of God. But if all will learn to depend upon God for themselves, many dangers that assail the one who stands at the head of the work will be averted. If he errs, if he permits human influence to sway his judgment, or yields to temptation, he can be corrected and helped by his brethren. And those who learn to go to God for themselves for help and counsel are learning lessons that will be of the highest value to them.
"But if the officers of a conference bear successfully the burdens laid upon them, they must pray, they must believe, they must trust God to use them as His agents in keeping the churches of the conference in good working order. This is their part of the vineyard to cultivate. There must be far more personal responsibility, far more thinking and planning, far more mental power brought into the labor put forth for the Master. This would enlarge the capacity of the mind, and give keener perceptions as to what to do and how. Brethren, you will have to wrestle with difficulties, carry burdens, give advice, plan and execute, constantly looking to God for help. Pray and labor, labor and pray; as pupils in the school of Christ, learn of Jesus.
"The Lord has given us the promise, 'If any of you lack wisdom, let him ask of God, that giveth to all men liberally, and upbraideth not; and it shall be given him.' It is in the order of God that those who bear responsibilities should often meet together to counsel with one another, and to pray earnestly for that wisdom which He alone can impart. Unitedly make known your troubles to God. Talk less; much precious time is lost in talk that brings no light. Let brethren unite in fasting and prayer for the wisdom that God has promised to supply liberally.
"Go to God and tell Him as did Moses, 'I cannot lead this people unless Thy presence shall go with me.' And then ask still more; pray with Moses, 'Show me Thy glory.' What is this glory?--the character of God. That is what He proclaimed to Moses. Let the soul, in living faith, fasten upon God. Let the tongue speak His praise. When you associate together, let the mind be reverently turned to the contemplation of eternal realities. Thus you will be helping one another to be spiritually minded. When your will is in harmony with the divine will, you will be in harmony with one another; you will have Christ by your side as a counselor."-- Gospel Workers, old edition, pages 235-237.
Unsanctified Independence
The Lord has not qualified any one of us to bear the burden of the work alone. He has associated together men of different minds, that they may counsel with and assist one another. In this way the deficiency in the experience and abilities of one is supplied by the experience and abilities of another. We should all study carefully the instruction given in Corinthians and Ephesians regarding our relation to one another as members of the body of Christ.
In our work we must consider the relation that each worker sustains to the other workers connected with the cause of God. We must remember that others as well as ourselves have a work to do in connection with this cause. We must not bar the mind against counsel. In our plans for the carrying forward of the work, our mind must blend with other minds.
Let us cherish a spirit of confidence in the wisdom of our brethren. We must be willing to take advice and caution from our fellow laborers. Connected with the service of God, we must individually realize that we are parts of a great whole. We must seek wisdom from God, learning what it means to have a waiting, watching spirit, and to go to our Saviour when tired and depressed.
It is a mistake to withdraw from those who do not agree with our ideas. This will not inspire our brethren with confidence in our judgment. It is our duty to counsel with our brethren, and to heed their advice. We are to seek their counsel, and when they give it, we are not to cast it away, as if they were our enemies. Unless we humble our hearts before God, we shall not know His will.
Let us be determined to be in unity with our brethren. This duty God has placed upon us. We shall make their hearts glad by following their counsel, and make ourselves strong through the influence that this will give us. Moreover, if we feel that we do not need the counsel of our brethren, we close the door of our usefulness as counselors to them.
To every church I would bear the message that man is not to exalt his own judgment. Meekness and lowliness of heart will lead men to desire counsel at every step. And the Lord will say, "Take My yoke upon you, and learn of Me." It is our privilege to learn of Jesus. But when men, full of self-confidence, think that it is their place to give counsel instead of desiring to be counseled by their experienced brethren, they will listen to voices that will lead them in strange paths.
The angels of God are in our world, and satanic agencies are here also. I am permitted to see the inclination of certain ones to follow their own strong traits of character. If they refuse to yoke up with others who have had a long experience in the work, they will become blinded by self-confidence, not discerning between the false and the true. It is not safe that such ones should stand in the position of leaders, to follow their own judgment and plans.
It is those who accept the warnings and cautions given them who will walk in safe paths. Let not men yield to the burning desire to become great leaders, or to the desire independently to devise and lay plans for themselves and for the work of God. It is easy for the enemy to work through some who, having themselves need of counsel at every step, undertake the guardianship of souls without having learned the lowliness of Christ. These need counsel from the One who says, "Come unto Me, all ye that labor and are heavy-laden."
Our ministers and leaders need to realize the necessity of counseling with their brethren who have been long in the work, and who have gained deep experience in the ways of the Lord. The disposition of some to shut themselves up to themselves, and to feel competent to plan and execute according to their own judgment and preferences, brings them into strait places. Such an independent way of working is not right, and should not be followed. The ministers and teachers in our conferences are to work unitedly with their brethren of experience, asking them for their counsel, and paying heed to their advice.
I am free to say to our brethren who with humility of heart are following the counsel of the Lord: If you know that God would have you engage in any work, go forward. Those who have the light and consciousness that God is leading need not depend upon any human agent to define their work. They are to receive the counsel of the highest Authority. Safety and peace and calm assurance are to be found only by following the counsel of the greatest Teacher that ever lived in our world. Let us not turn away from His unerring counsel.
But our impressions are not always a safe guide to duty. Human impulse will try to make us believe that it is God who is guiding us when we are following our own way. But if we watch carefully, and counsel with our brethren, we shall understand; for the promise is, "The meek will He guide in judgment: and the meek will He teach His way." We must not allow human ideas and natural inclinations to gain the supremacy.
An Appeal for Unity
Workers for Christ are to strive for unity. We are the children of the same family, and have one heavenly Father. Let us not put on garments of heaviness, and cherish doubts and a lack of confidence in our brethren. We should not hurt our souls by gathering the thistles and the thorns, but instead we should gather the roses and the lilies and the pinks, and express their fragrance in our words and acts.
The following is part of a talk given to the ministers assembled at the General Conference in 1883:
"'Finally, brethren, whatsoever things are true, whatsoever things are honest, whatsoever things are just, whatsoever things are pure, whatsoever things are lovely, whatsoever things are of good report; if there be any virtue, and if there be any praise, think on these things."
"The dealings of God with His people often appear mysterious. His ways are not our ways, nor His thoughts our thoughts. Many times His way of dealing is so contrary to our plans and expectations that we are amazed and confounded. We do not understand our perverse natures; and often when we are gratifying self, following our own inclinations, we flatter ourselves that we are carrying out the mind of God. And so we need to search the Scriptures, and be much in prayer, that, according to His promise, the Lord may give us wisdom.
"Though we have an individual work and an individual responsibility before God, we are not to follow our own judgment, regardless of the opinions and feelings of our brethren; for this course would lead to disorder in the church. It is the duty of ministers to respect the judgment of their brethren; but their relations to one another, as well as the doctrines they teach, should be brought to the test of the law and the testimony; then, if hearts are teachable, there will be no divisions among us. Some are inclined to be disorderly, and are drifting away from the great landmarks of the faith; but God is moving upon His ministers to be one in doctrine and in spirit.
"Brethren sometimes associate together for years, and think they can trust those they know so well, just as they would trust members of their own family. There is a freedom and confidence in this association which could not exist among those not of the same faith. This is very pleasant while brotherly love continues; but let the 'accuser' of the brethren gain admittance to the heart of one of these men, controlling the mind and the imagination, and jealousies are created, suspicion and envy are harbored; and he who supposed himself secure in the love and friendship of his brother finds himself mistrusted, and his motives misjudged. The false brother forgets his own human frailties, forgets his obligation to think and speak no evil lest he dishonor God and wound Christ in the person of His saints; and every defect that can be thought of or imagined is commented upon unmercifully, and the character of a brother is represented as dark and questionable.
"There is a betrayal of sacred trust. The things spoken in brotherly confidence are repeated and misrepresented; and every word, every action, however innocent and well-meaning, is scrutinized by the cold, jealous criticism of those who were thought too noble, too honorable, to take the least advantage of friendly association or brotherly trust. Hearts are closed to mercy, judgment, and the love of God; and the cold, sneering, contemptuous spirit which Satan manifests toward his victim is revealed.
"If Satan can employ professed believers to act as accusers of the brethren, he is justly pleased; for those who do this are just as truly serving him as was Judas when he betrayed Christ, although they may be doing it ignorantly. Satan is no less active now than in Christ's day, and those who lend themselves to do his work will manifest his spirit.
"Floating rumors are often the destroyers of unity among brethren. There are some who watch with open mind and ears to catch flying scandal. They gather up little incidents which may be trifling in themselves, but which are repeated and exaggerated until a man is made an offender for a word. Their motto seems to be, 'Report, and we will report it.' These talebearers are doing Satan's work with surprising fidelity, little knowing how offensive their course is to God. . . . The door of the mind should be closed against 'They say,' or 'I have heard.' Why should we not, instead of allowing jealousy or evil surmising to come into our hearts, go to our brethren, and after frankly but kindly setting before them the things we have heard detrimental to their character and influence, pray with and for them? While we cannot fellowship with those who are the bitter enemies of Christ, we should cultivate that spirit of meekness and love that characterized our Master-- a love that thinketh no evil, and is not easily provoked. . . .
"Let us diligently cultivate the pure principles of the gospel of Christ--the religion, not of self-esteem, but of love, meekness, and lowliness of heart. Then we shall love our brethren, and esteem them better than ourselves. Our minds will not dwell on scandal and flying reports. But 'whatsoever things are true, whatsoever things are honest, whatsoever things are just, whatsoever things are pure, whatsoever things are lovely, whatsoever things are of good report; if there be any virtue, and if there be any praise,' we shall 'think on these things.'"
As a people, we have been reproved by God for doing so little. How important, then, that we guard carefully against everything that might dishearten or weaken the influence of one soul who is doing a work that God would have done. There are victories to be gained if we present a united front and individually seek the Lord for strength and guidance.